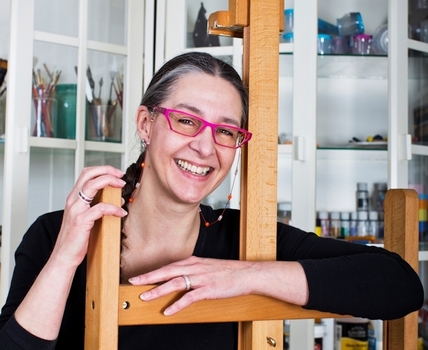 I'm a Dutch-Argentine artist (born in the Netherlands, 1962) painting contemporary realist still lifes. I seek to capture the fascinating interactions between colors, light, shadows, textures and reflections, and unite them in visual poetry.

During my thirty+ year career my artwork has received many prestigious awards, and has been exhibited in well over 150 gallery and museum exhibitions in Argentina, Belgium, Canada, Denmark, Estonia, France, Germany, Japan, the Netherlands, Spain, Taiwan, the United Kingdom, and the United States.

Five of my bronze statues enjoy permanent public installation in Wassemaar, the Netherlands.

I'm Founding Member of the International Guild of Realism (IGOR), Signature Member and Member at Large of the International Society of Acrylic Painters (ISAP), and Honorary Member of the National Acrylic Painters' Association (NAPA) of the UK. I'm also a Fellow of the Royal Society for the encouragement of Arts, Manufactures and Commerce (RSA).

My artwork has been published in US and international art magazines, including Southwest Art, International Artist Magazine, American Art Collector, The Guide Artists, Revista Ophelia, The Artist, and PoetsArtists. My sculptures were published in the Dutch book entitled Beeldend Wassenaar, and my illustrations appeared in the children's book entitled Artikel 12* published by the Center for Peace in Belgium. My paintings can be found in Lexi Sundell's book Acrylic Artist's Guide to Exceptional Colour, Rhéni Tauchid's book Acrylic Painting Mediums & Methods, in the museum catalog entitled The Reality of Things: Trompe l'Oeil in America published by the Vero Beach Museum of Art, in the museum catalog entitled We Are Food published by Museum Jan Cunen, in Arte y Libertad XII published by Galería Artelibre, and in the museum catalog Painting Today / Pintando Hoy published by the MEAM, the European Museum of Modern Art.

In 2010 my work appeared in the eminent art history book by Professor Katlijne Van der Stighelen entitled Vrouwenstreken, Unforgettable Female Painters from the Low Countries from 1550 until today (Dutch language, published in Belgium and the Netherlands). In this prestigious book I am named as one of the 100 most noteworthy women artists of the Low Countries.

My book Painting in Acrylics: The Indispensable Guide (Firefly Books, published in the U.S. and Canada) became available in November 2014. The same book entitled Complete Guide to Painting in Acrylics (Search Press, published in the U.K. and Australia) became available in December 2014. The Dutch language version of my book, De Complete Gids voor Acrylverf - Professionele Technieken voor Traditionele Toepassingen (Uitgeverij Librero, publisher for the Netherlands and Belgium), was published in September of 2015. The Spanish translation, Guía completa de pintura al acrílico - Técnicas profesionales para la aplicación tradicional (Ilus Books, Spain) was published in June of 2017. Additional translations in various other languages are tentatively expected from 2021 onward.

During the past several years I've written essays for PoetsArtists, Beautiful Bizarre, catalog introductions, and undertaken several curatorial projects. Currently I publish essays on Medium. My articles can be found on this website under Art Blog.

I currently live and work in Antwerp, Belgium.